The testimonial section of your website is extremely important, as it will be one of the main selling points for your service. People don't just want to know what you offer, they also want to know what other's are saying about your business. Therefore, an attractive testimonial section on your website is imperative if you want to maximise the potential of your website (and business!).
Divi's Testimonial Module is great, and I have used it plenty of times before, but one of my favourite layouts consists of using the Slider Module as a testimonial section.
Click here for a live demo of my Testimonial Slider.
How To Create A Testimonial Slider
Insert a Slider Module
Insert a new section, and add a standard width column:
Within your column, insert the Slider Module and apply the following settings:
Show Controls: Yes
Automatic Animation: Yes
Automatic Animation Speed: 6000
Continue Automatic Slide on Hover: Off
Use Parallax Effect: Yes
Parallax Method: True CSS
Remove Inner Shadow: No
Insert Your Slides
Firstly, select an image that you'd like to display as the Slide's background and insert it into the Background Image field as follows: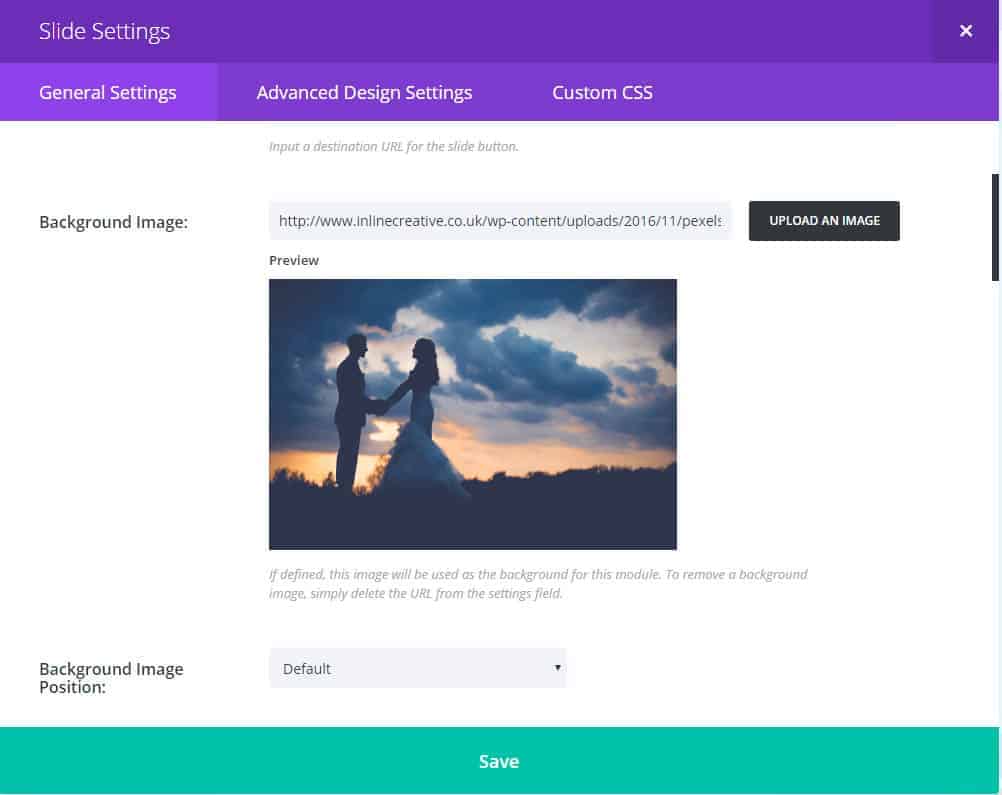 The background image position can remain as Default. Next, we're going to apply a text overlay to ensure that the slide's text is visible against the various background images in which we'll be using. Apply these settings:
Use Background Image Overlay: No
Use Text Overlay: Yes
Text Overlay Color: rgba(0,0,0,0.75) – this will be a semi-transparent dark background
Text Color: Light
Add Your Testimonial/Quote Into The Content Section
I've center-aligned the text to keep things neat, and I've put the reviewer/author/testimonial-writer underneath and made it both bold and italicized.
Save and Repeat
Save your time by duplicating your first, customized Slider by using the following button:
Swap out your Background Image and slider Content and repeat for the rest of your testimonials and you're set!
Thanks For Reading
Thank you for reading, I hope this has been of use for some Divi users out there. If you've found this useful, please Subscribe (sidebar to the right) to ensure that you don't miss out on the next tutorial!
Tim
The following two tabs change content below.